For the multi-unit builder/developer who's doing one or multiple projects, housing tracts, condominiums, apartment complexes, hotels, etc... - we are your company. We have worked with some of the largest builders around for many years. Please see our list of clients. We can handle all of your projects, not just one or tow. We will approach and manage your projects in a proactive, not reactive style, seeing that your schedules are met with the highest standards of quality and craftsmanship. We will provide all your ornamental iron needs, from the simplest decorative hardware, i.e. decorative clavos (nails), shutter hinges/dogs, garage straps, weathervanes to the most ornate handcrafted stair railings, gates, balconies, and wrought iron accents.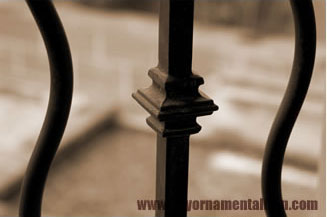 We manage all your projects so you only need to contact one source, instead of spending valuable time and resources keeping track of multiple companies. This will help you keep focused on the important things. Therefore, you only have to concentrate on the important work of starting and building new projects.
So, if you want one more thing off your plate and someone else that does the job without your micromanagement, we should meet to discuss your needs. Please contact us at your earliest convenience. Our contact data is on our Contact Page.